The Outing Club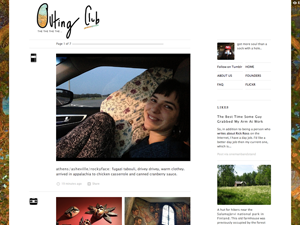 The essence of this organization was first conceived over stolen fries at the American University Tavern. We thought of artists, writers, and intellectuals who seem to have had a friends with whom they spent time.. drank, laughed, traveled, shared thoughts/simply were with. Together, they were lifted. We resolved to form a Salon through which all of our libido could be appropriated.
The Salon quickly became the Outing Club after some arguments over its function. The name of the Outing Club first came to mind while registering for residence at a 19th century lock-keeper's house on the Chesapeake & Ohio Canal. When asked what organization we represented, we wrote, without reservation, "the Outing Club". And so we were, and we are still.. the Outing Club.
We go out, we stay in.. It's not about where you go or what you do.. it's about how you approach it. Our site is where we archive our outings (whether they be songs, dreams, photos, videos, or dialogues).